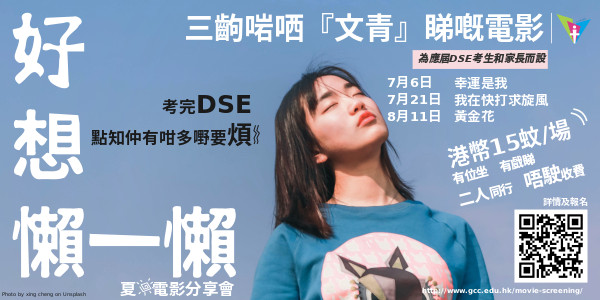 You may know that the HKDSE results of this year will be announced on 11 July.  The Development and Communications Office (DCO) is going to organise a series of Movie Screening for DSE candidates and their parents to give them a break time, as well as to make our College known to them.
Fellow Gratians, may I seek your help to make use of your secondary school/friends/youngster networks to help promoting this events?
Three simple steps to help
Step 1: Open Whatsapp/Link/WeChat/Snapchat..., and forward the hyperlink of event page http://www.gcc.edu.hk/movie-screening to your contacts.
Step 2: Open Facebook, and share this post to your friends.
Step 3: Meet your friends, and tell them about this wonderful event.
Please feel free to call Ian if you have any questions.  Thank you.
Warm regards,
Ian Fok
_________
Development and Communications Office  
發展及傳訊處

   (852) 5804 4144 | dco@gratia.edu.hk | Room G00, Ground Floor, Gratia Christian College