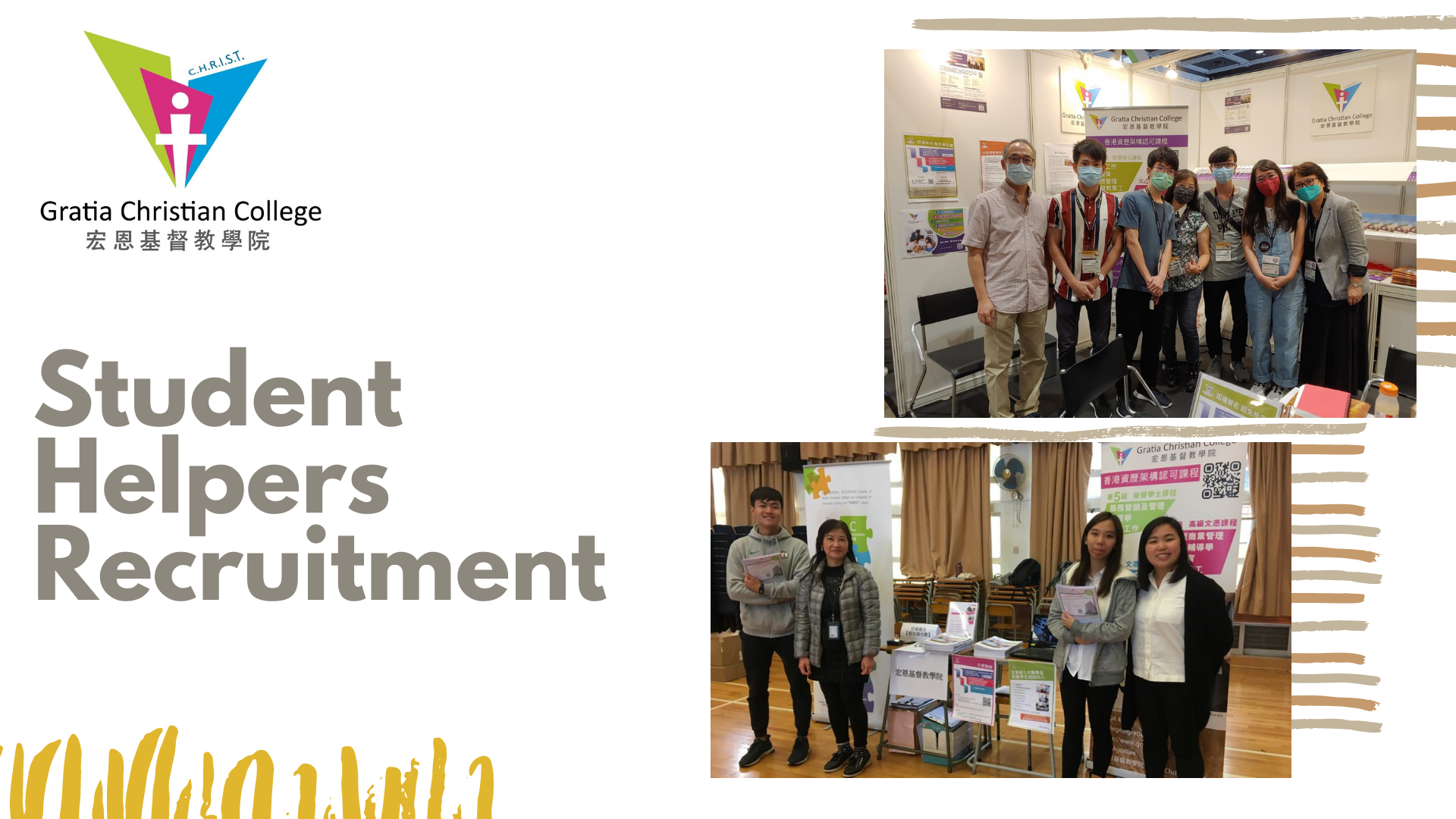 Application Deadline: 5:00 pm, 6 December 2021
Guidelines for Application:
1. Please login with your College EID before filling out the application form.
2. Applicants would be notified with their application results via email.
3. Successful applicants are required to attend a short briefing session before the event.
4. Selection will be made on a first-come first-served basis in case of many applications.
Application Form: https://forms.gle/RwnCkbcqA2Cx6S5a8
The Development and Communication Office (DCO) is recruiting energetic students who have a strong sense of belonging to serve as student helpers in the following event:
1) Consultation booth at Stewards MKMCF Ma Ko Pan Memorial College (馬錦明慈善基金馬可賓紀念中學)
Date: 14 Dec 2021 (Tue)
Time: 12:20 pm - 1:20 pm
District: Tuen Mun
Number of student helpers needed: 1
2) Consultation booth at ECF Saint Too Canaan College (基督教中國佈道會聖道迦南書院)
Date: 17 Dec 2021 (Fri)
Time: 6:00 pm - 8:30 pm
District: Kwun Tong
Number of student helpers needed: 2
Service Details
Duties:
Venue setup, promoting GCC programmes and events to students and visitors, assisting the applicants in admission application, handling visitors' enquiries, move-out support, etc.
Hourly Rate:
$50
For enquiry, please contact Ms Viann Lun or Ms Joyce Lam at 5804 4144 or via dco@gratia.edu.hk.
Thank you.
Development and Communication Office