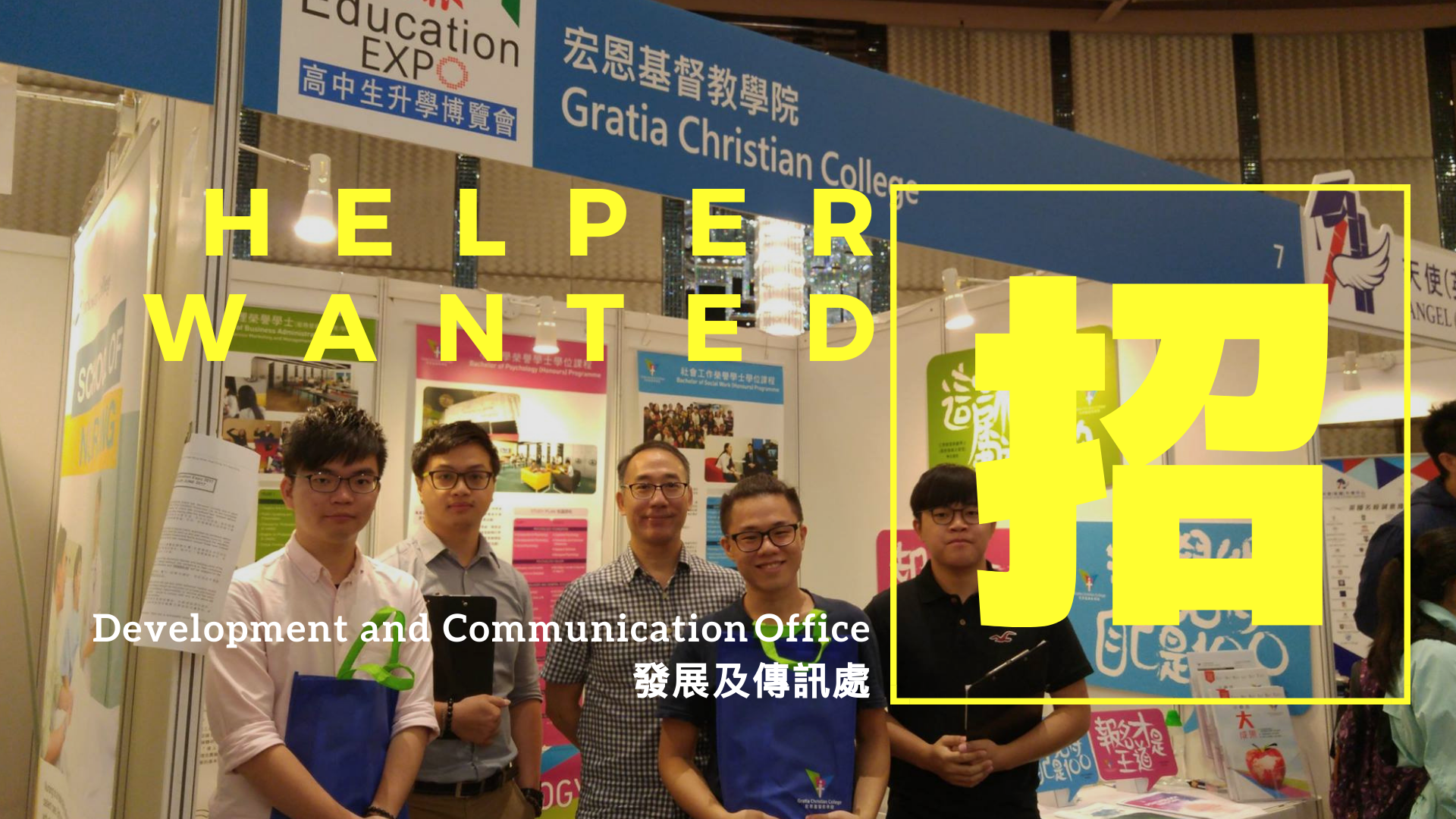 Recruitment of Student Helpers – Education & Careers Expo 2020 (16-19 July 2020)

Application Deadline: 5:00 pm, 3 July 2020 (Friday)
Guidelines for Application:
1. Please login with your College EID before filling out the application form.
2. Applicants would be notified with their application results via email.
3. Successful applicants are required to attend a short briefing session before the event.
Application Form: https://forms.gle/WSFDysSULeSJ5SKS6
The Development and Communication Office (DCO) is recruiting energetic students who have a strong sense of belonging to serve as student helpers in the following event:
Event Name:

Education & Careers Expo 2020 (教育及職業博覽 2020)

Event Dates:

16 - 19 July 2020 (Thursday – Sunday)

Venue:

Hong Kong Convention and Exhibition Centre

1 Expo Drive, Wan Chai, Hong Kong

GCC Booth no.:

 5G-A25
Service details:
Working Hours*:

AM Session: 10:00 am - 2:30 pm

PM Session: 2:30 pm - 7:00 pm

(Two sessions daily)

Duties:

Venue setup, promoting GCC programmes and events to students and visitors, assisting applicants in admission application, handling visitors' enquiries,
move-out support, etc.

Hourly Rate:

$50

Application Deadline:

5:00 pm, 3 July 2020 (Friday)

Application Form:
*For those who choose both sessions (10:00 am - 2:30 pm and 2:30 pm - 7:00 pm) on the same day, one-hour lunch time will be included.
For enquiry, please contact Ms Viann Lun or Ms Joyce Lam at 5804 4144 or via dco@gratia.edu.hk